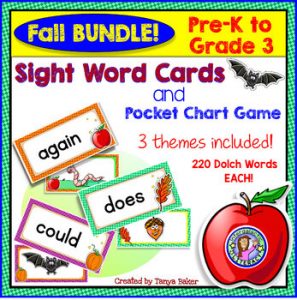 This super savings BUNDLE, contains all 5 of the Fall Themed Dolch Sight Word Cards/Pockets Chart sets! Purchasing them in a bundle, rather than individually, saves you 50%!!
All 220 Dolch sight words are included in this bundled package.
Each word card measures 5.2 x 2.65 inches making it versatile for use in pocket chart games, on a word wall, or popping on a ring and hanging at a literacy center.
All pages are in color, however could be printed in black and white, should you wish. Cute hide-and-seek cards are also included. The handcrafted illustrations add a playful and unique element to this resource, that students are sure to love!
All of the materials that I am including in this bundled unit download are sold separately.  Below is a complete list of what you will receive.
Please click on each link to read a detailed description, and see previews, of each product.
This BUNDLED package contains the following sets:
There are over 150 pages of material here, to help keep things interesting for your kiddos, throughout the fall season :).