Happy November! 
It's been a busy start to the school year with lots of exciting things going on.  My oldest moved out a few months ago, to attend post secondary (sniff!). We've enjoyed visiting him and appreciating quality time together.
My youngest son, and I have been dabbling in more art activities, and it seems like our family has a keen desire to take up screen printing in our spare time 😉
BC Core Competencies
In other exciting news – the BC Competencies have been finalized and posted on the BC Ministry of Education site.  There are a few changes from the original drafts of 2017.
Some folks have been asking if I'll be updating my competency resources, and am pleased to say – yes, you bet!  I've begun updating now and am making steady progress. The Primary, Intermediate, and Middle School Editable Poster Sets are almost ready. I plan to update the K-7 Core Competency package next, and dive into creating brand new resources in the coming months. Keep an eye out for posts/emails, letting you know when the revisions are complete 🙂
New Header/Logo
You never know when the creative bug will strike – and it happened this weekend.  I pulled out some watercolor paints and had oodles of fun experimenting with colors for a galaxy and planets.
And before I knew it, I was redesigning my logo/header.

I'd love to hear what you think! – I'll post my new logo on Facebook.
Last But Not Least – Gratitude
The fall season is a perfect time to express what you are grateful for…
I am so humbled by the encouragement and support I have been receiving for Intergalactic Literacy.  My evenings and weekends are filled with joy as I create and draw.  Just last week I was thinking how grateful I feel, to have my resources a part of your class, and home, and wanted to put together a free coloring sheet to express it.  <3 Please be sure to grab yourself a copy <3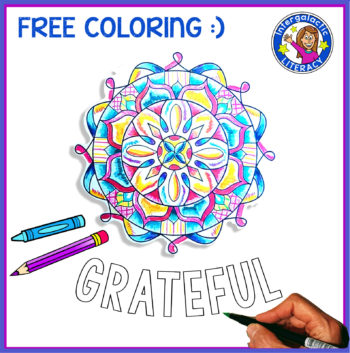 I had fun testing out the coloring sheet 😉 playing with highlights and shadows, experimenting with pencil crayon.
Thanks so much for stopping by!
With gratitude,
Tanya