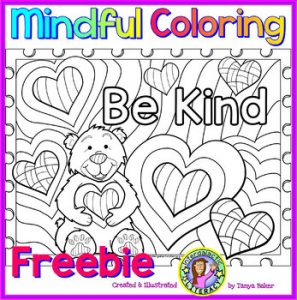 This coloring activity sheet is free for you to download, print, and hand out to your students.   You can even share it with your fellow teachers and parents.  This sweet freebie is sure to bring smiles and some quiet time in-between lessons or while listening to a story!
It's great for encouraging mindfulness, as a calming activity, or just for fun!
Coloring for children is a great activity not just for hand and eye coordination. Coloring exercises patience, improves focus, stimulates creativity, and can be used to for promoting a positive growth mindset.
When children get a hold of this cute activity sheet they will fall in love with the hand illustrated bear, heart shapes, patterns, borders and the concept phrase "Be Kind". This is a sample coloring page, from my Growth Mindset and Motivational Coloring series (Set 2).
Did you see these coloring sets?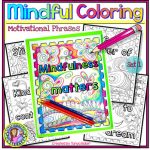 Ten original hand illustrated coloring sheets, that tie in beautifully with growth mindset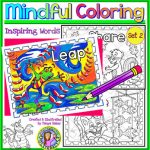 11 unique, hand drawn coloring pages, that are sure to capture the interest and imagination of your students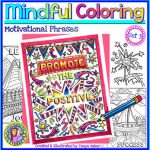 Ten original, hand drawn, coloring sheets, that are perfect for encouraging a growth mindset, using as a calming activity, or having on hand for free time